Gas Detection System (Permanent Installations)
ATC is specialized in design, engineering and manufacture of tailor-scaled gas detection systems and tools used in the oil and gas industry for clients around the globe.
Technical Features of ATE Gas Detection System:
Robust control systems with intelligent response functions
Record review on calibrations (combustible and H2S gas)
Flexible-fit integration with third party auxiliary devices such as horns, beacons and fire suppression systems
Allow integration with 3rd party applications including Fire System, DCS, and ESD, etc.
Panel-mounted Gas Detection System
ATE designs and supplies panel-mounted gas detection systems in accordance with the most recent EN European standards.
The panel-mounted gas detection system is able to initiate 16 detection channels simultaneously, and equipped with reliable audio and visual alarms.
Typical Composition of H2S Detection System

Single/Multiple Gas Detector (Portable)
ATE supplies a complete range of single/multiple gas detectors for detection and monitoring of O2, H2S, CO, CL2, in various concentrations.
The design of the portable gas detectors is presented with rugged casing, replaceable sensors and battery, which are well recognized for easy applications.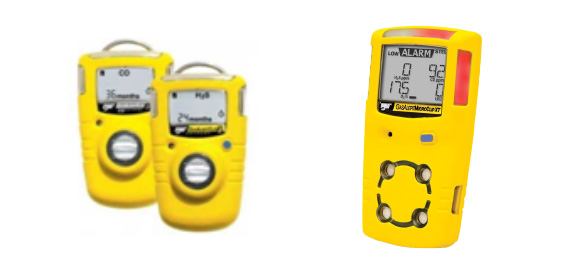 Permanently-installed Gas Detector (for Detection of Toxic & Combustible Gas)
The Permanently-installed gas detector offers a broad range of detection sensors for applications in H2S, CO, H2, O2, EX, ETO, CO2, VOC, EX, etc.
The design features of the gas detector offer advantages of rugged casing, user-friendly functions, solid electromagnetic shielding, and infrared remote controller.
Approved by ATEX.